Cheesy Tuna Noodle Skillet
Boomette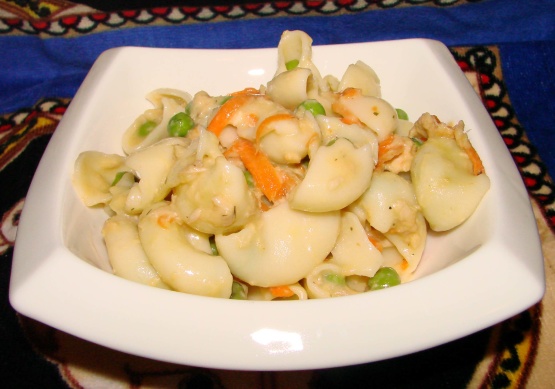 yet to try - note amount of water going into pan as you do not drain
I was looking for a quick tasty easy meal with tuna and this fit the bill. Did add some garlic powder and pepper and dried onions because I like a lot of flavor. Used Healthy cream of chicken soup as that was all I had on hand and used whole wheat pasta noodles. Hubby really loved it too. No leftovers at our house!
BRING water to boil in large deep skillet or saucepan on high heat.
Stir in pasta.
Reduce heat to medium-low; cover.
Simmer 9 minute or just until pasta is tender and liquid is almost completely absorbed. (Do not drain.)
ADD soup, tuna, vegetables, thyme and dill; stir.
Bring to boil.
Reduce heat to low; simmer, uncovered, 3 to 5 minute or until thickened and heated through.
STIR in cheese.
Jazz It Up: Sprinkle with chopped fresh parsley just before serving.
Variation: Substitute frozen chopped broccoli for the peas and carrots. Or substitute 3/4 cup (4 oz.) OSCAR MAYER Ham, chopped, or 2 cups chopped leftover cooked chicken for the tuna. You can also use any flavor of condensed cream soup you have on hand.