Cheesy Tomato Soup With Potatoes
Nasseh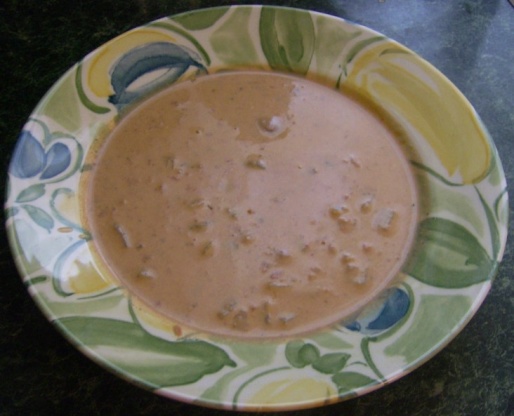 After modifying another recipe I came up with this wonderful soup. It tastes even better the second day.

I ate this soup on the first day, so I don't know now if it will be better the next day. Tonight I had it for dinner and I liked it, but didn't love it. I diced fresh potatoes and cooked them in the chicken broth and water. Other than that I made the recipe exactly as stated. It may be that I prefer a "regular" tomato soup or a regular "potato" soup; maybe that is why I didn't love it. I'll try it again on the second day to see if that makes it a 5 star recipe! Thanks for the totally different take on tomato soup.
Pour the broth & water into a large pot. Add the spices, soy sauce, Worcestershire, & potatoes to the pot then bring to a boil. Turn down the heat & simmer for 5 minutes.
Tip: If you can't find crushed tomatoes with basil, garlic, & oregano you can puree a can of diced tomatoes with basil, garlic, & oregano.
Add the crushed tomatoes, cream, & cheese, stir until melted. Mix the flour with 1 tablespoon of water then stir into the soup. Simmer for another 7-10 minutes.