2 Reviews
I tried this recipe earlier today. Definitely very easy to prepare and a short time in the oven. As the previous reviewer stated, it needs some extra care to be better. The breadcrumbs did not stick to the tofu at all. This is the first time I worked with tofu, so will need to learn a bit more.

I used a fra diavolo sauce, which helped spice things up a bit, but I would probably go for a few more additives to do this dish some justice next time.
This was easy and good. Could use some dressing up a bit for adults (herbs, garlic, etc.) but for kids it's perfect. My BF and I (we're both adults:)) enjoyed it though. I suspected the breadcrumbs would not adhere to the tofu, and I was right. That was okay though, since I like the texture of the sauce and breadcrumbs. Nice and easy recipe! Good for South Beach dieters too. Thank you Dreamer!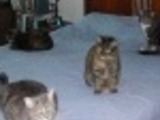 Cheesy Tofu Strips - Italian Style