Cheesy Toasted Ravioli With Pesto
IngridH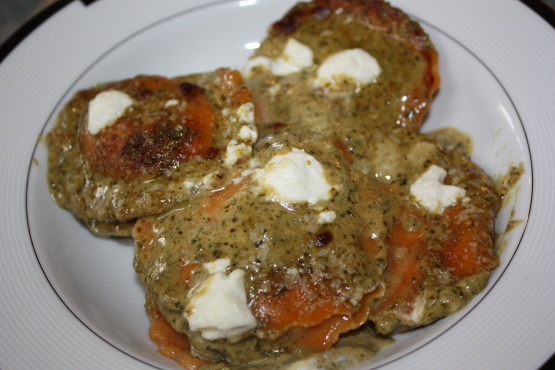 A different way of preparing ravioli - they aren;t baked or boiled but browned in butter, simmered in broth and cream and finished in a broiler with pesto, goat cheese and tomatoes. From Cook's Country April/May 2010. Make sure to use homeade or store-bought refrigerated pesto. The shelf-stable pesto won't taste as good.

Wow! Very, very rich; but very good.I had an issue with my sauce- by the time it had thickened, it had also reduced to almost nothing, so I added a couple tablespoons of cream with the pesto and cheese in order to incorporate all the ingredients, then poured the sauce over the ravioli in the baking dish. I didn't need any extra salt. This time I used lobster ravioli, but the dish would be good with nearly any kind. Thanks for posting a great recipe!
Adjust oven rack to upper middle position and heat broiler.
Melt butter in a large nonstick skillet over med-high heat. Add ravioli and cook, stirring occasionally, until golden brown, 3-5 minutes. Stir in broth and cream and cook, covered until ravioli are nearly tender, about 3 minutes. Remove lid and continue to cook until sauce is slightly thickened and ravioli are completely tender, about 3 minutes.
Off heat, stir in pesto and 1/4 cup cheese into pan with ravioli. Transfer to broiler safe 1 1/2 quart casserole dish. Arrange tomatoes over ravioli and season with salt and pepper to taste. Sprinkle with remaining cheese and broil until surface is spotty brown, about 3 minutes. Serve.