Cheesy Tater-Topped Chili
Noo8820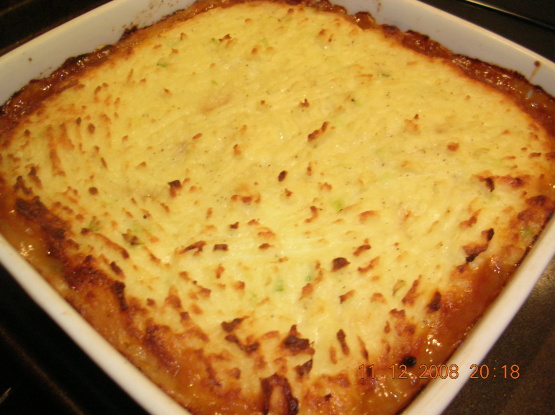 I saw this prepared on Rachael Ray's television show and it looked so good. It looks like a true comfort meal.

I have to admit that this needed some adjustments.Three tablespoons is alot of chilli powder,but I ran with it as I love hot and spicy-it was too much and overpowered everything else (also my DH who can eat pretty hot struggled with it!).Also,as there are so many powders being added,(seven tablespoons in total!) the cooking time really wasn't enough to cook them out and get rid of the powdery taste.I ended up adding a fair amount more liquid to mine and letting it simmer for a good hour or so to cook out and reduce. With the necessary adjustments I think this would be a super little recipe. Made for PhotoTag.
In a large pot, boil the potatoes until they are fork-tender.
While the potatoes are coming up to a boil, preheat a deep skillet or wide, heavy-bottomed pot over medium-high heat.
Add the olive oil and ground beef and crumble up the meat as it cooks, using the back of a wooden spoon or potato masher, for about 8 minutes, until brown and caramelized.
Add the onions, garlic, chili powder, cumin, smoked paprika, cinnamon, salt and tomato paste to the meat and cook another 5 minutes.
Add the beer and stock, and stir to loosen any bits from the bottom of the pan.
Reduce the heat and simmer for 10-15 minutes, until thickened.
Season the chili with salt to your taste.
Once the potatoes are done cooking, drain and return them back to the same pot.
Place the potatoes back over the heat, shaking them around a bit to dry them out.
Add the butter and the whites of the scallions to the potatoes, and sauté the scallions 1-2 minutes, until tender.
Remove the potatoes from the heat then add in the milk, egg yolks, salt and ground black pepper. Mash them up with the potatoes masher.
Fold the cheese into the potatoes and allow it to melt.
At this point the chili should be ready to be poured into a casserole dish and topped with the cheesy scallion potatoes.
Place the chili tater-topped casserole into the oven and brown the top, about 2-3 minutes.
Garnish with the reserved green scallion tops and serve.