NELady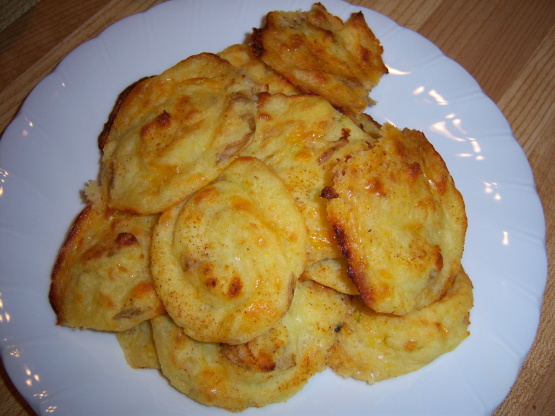 This is a simple way to use up your left over mashed potatoes in a nice looking side. You can vary this recipe by using many different spices and seasonings, but I kept it simple for child care use. If you make more you can freeze and reheat!

These were good and easy to make. I followed the recipe as written other then I didn't use the pastry bag to do the puffs. They weren't as puffy as I thought they would be but they were good just the same. I did add pepper and onion powder to the mixture. Made for Spring PAC 2010.
2

cups mashed potatoes, leftovers work well. If the potatoes are riced they will move easier through the star tip of the pas
1 1⁄2 cups cheese, finely shredded
salt and pepper
Pre-heat oven to 425.
Mix mashed potatoes with shredded cheese. You can also add shredded onions, garlic, carrots and your choice of herbs to make it look and taste different!
LET MASHED POTATOES AND ADDITIONS GET COLD BEFORE YOU CONTINUE! IF YOU DON'T THEN THEY WILL SPREAD OUT MORE, IF THEY ARE COLD THEN THE INSIDE WILL BE WARM AND THE OUTSIDE WILL CRISP.
Line cookie sheet with foil or parchment paper, and spray with non-stick cooking spray.
Fit pasrty bag with the largest star tip you have, or use a zipper type bag with a corner snipped off.
Squeeze potato mixture through bag onto prepared cookie sheet, in small mounds.
Season with salt and pepper, or seasonings of choice.
Place in oven for 20-25 minutes.
If you want a crispier outside place under broiler for a few minutes watching closely.
You can freeze any extra, you will need to leave them separate on the cookie sheet until frozen then you can bag them and reheat like you were cooking them fresh.