ImPat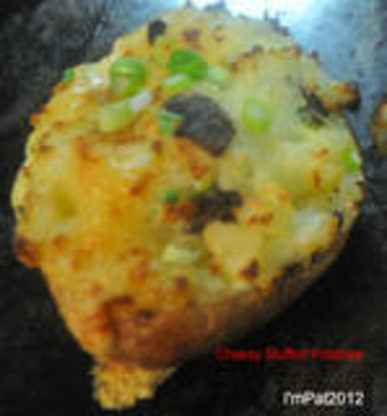 A recipe I received from DH's daughter after she had made DH and I a delicious meal. They were very good but I think when I make them I might add some minced garlic or roasted garlic and some of the green onions into the potato pulp. The prep time or cooking time does not reflect the time it takes to bake the potatoes...add an hour or so to bake the potatoes.

Top Review by ImPat
Made this as a light dinner for the DM and she thoroughly enjoyed. I used a large Nadine potatoe and baked for 1 hour at 175C fan forced and then followed the recipe. I did use a fresh baby portabellow mushroom and gruyere cheese (my 2 legged gremlin had demolished the last of the gouda) and added some spring onion/scallion to the mix, mainly because if I added it all to the top the DM would have scraped it off, my way she ate most of it leaving only the potato skins and the spring onion that was on top. Thank you mama smurf for a great stuffed potato, made for Aussie/Kiwi Recipe Swap #62 March 2012.
Preheat oven to 400 degrees. Line a baking sheet with foil.
Cut baked potatoes in half lenghtwise. Scoop pulp out of potatoes and place in a large bowl. Place skins on the baking sheet; set aside. Mash the potato pulp, butter, cream, salad seasoning, and parsley with a potato masher. Season with salt and pepper. Stir in mushrooms and Gouda. Divide mashed potato mixture evenly among the potato shells.
Bake for 15-17 minutes or until centers are hot and cheese is melted. Preheat broiler and broil potatoes 6 inches from heat source for 2-3 minutes or until tops are browned. Sprinkle with chopped scallions.