Cheesy Sprimp Black Bean Roll-Ups #Ragu
arlinda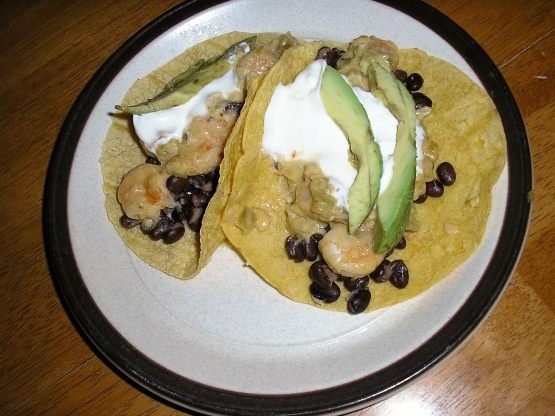 Ragú® Recipe Contest Entry. Mexican inspired shrimp with Ragu Four Cheese sauce served over black beans in corn tortillas. Incorporates green chiles, onion, garlic, lime juice, sour cream and avocado in the dish.
Heat oil in large frying pan, over medium heat. Add garlic and onion stirring until starting to soften, approximately 5 minutes. Add shrimp and cook until no longer pink (about 3-5 minutes). Sprinkle with salt and pepper. Add drained green chiles and Ragu four cheese sauce. Heat and stir until slightly thickened (about 5 minutes). Place in bowl to serve.
While cooking shrimp and cheese sauce, drain black beans reserving 1/4 cup of liquid. In small saucepan, heat black beans, reserved liquid and lime juice. Heat over medium heat for 3 minutes. Then reduce heat to low to keep warm until ready to serve. At serving time, drain black beans in colander, shaking to remove as much liquid as you can. Put in separate small bowl.
Bring large frying pan to medium heat. Heat corn tortillas for 20-30 seconds on each side. Keep warm until ready to serve by stacking on a warmed plate and cover with foil or in a covered tortilla keeper.
Cut avocado in half lengthwise, remove center, then run knife lengthwise to create thin wedges. Use a large spoon to scoop out wedges from skin. Place on plate to serve.
Guests will place a row of black beans down the center of the heated tortillas, cover with shrimp/cheese sauce, a heaped teaspoon of sour cream and top with a wedge of avocado.