Hamlin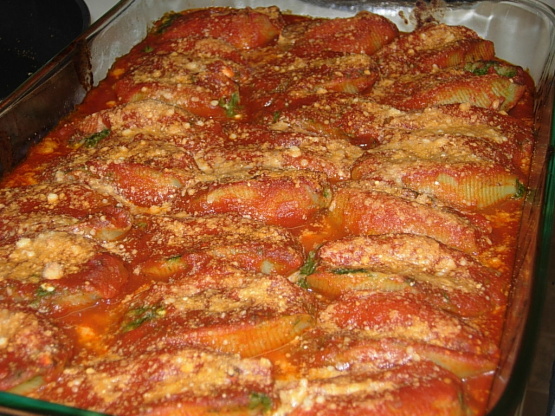 This is a recipe from a family friend. I can say my husband and I are not big fans of onions or spinach, but we love this dish. Even my 3 year old, who is VERY picky, asks for this dish often now. In the photo I took of my recipe, I used more than 26 ounces of spaghetti sauce, about 1.5 jars, but that is entirely up to you.

Made this for my other half to take to a potluck at work, & it was a definite hit! I'm not so big on cooked spinach, but they all loved it & the empty baking pan was all I got back from it ~ Well, that, AND a number of requests for a copy of the recipe! Many thanks for sharing the recipe! [Made & reviewed for one of my adopted chefs in this Spring's Pick A Chef event]
Preheat oven to 350.
Sauté the onion in oil. Once the onions have caramelized, add the spinach and sauté for another 3 minutes.
Puree the onion and spinach and set aside.
Mix together the cottage cheese, bread crumbs and parmesan cheese in a large bowl. Once mixed, add the onion and spinach puree. Salt and pepper to your liking.
Fold in the slightly beaten egg into your mixture.
Stuff each shells with however much stuffing you'd like. I normally do about two spoonfuls each. As you stuff each shell, place them in a greased 9x13 baking pan.
Pour your favorite spaghetti sauce over the shells and sprinkle the top with parmesan cheese.
Bake for 30 minutes, uncovered, or until the top is golden brown.