CoreyAnn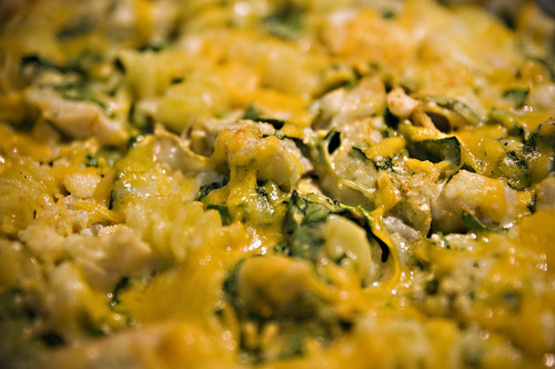 A friend of mine made this and gave me the recipe. It is very adaptable to whatever your tastes are and can easily be made to fit your lifestyle and needs! I used rotini in this recipe but the original called for spaghetti (that didn't make sense to me). You could really use any sort of pasta you have on hand! I bought precooked chicken strips to use in the dish and it helped keep the dish speedy and tasty!

This was a very good recipe! I have never made anything with spinach before, so I had no clue what to expect. I made the recipe just as posted, however I divided everything in half for just my husband and I. But to my suprise, my five year old liked it too! Thanks for the recipe. We will be making this again in our home.
1. Bring a large pot of lightly salted water to a boil. Cook rotini in boiling watr for 8 to 10 minutes or until al dente; drain. Preheat oven to 350°F (175°C).
2. In a 2 quart casserole dish, whisk together egg, milk and sour cream. Using a wooden spoon, stir in spinach, artichoke hearts, chicken, Monterey Jack cheese, 2 tablespoons Parmesan cheese and cooked rotini. Season with minced onion, salt, pepper and paprika. Top with remaining Parmesan cheese and paprika.
3. Cover and bake in preheated oven for 15 minutes. Remove cover and bake for another 15 minutes. Let stand 2 minutes before serving.