Cheesy Spinach and Mushroom Manicotti
2Bleu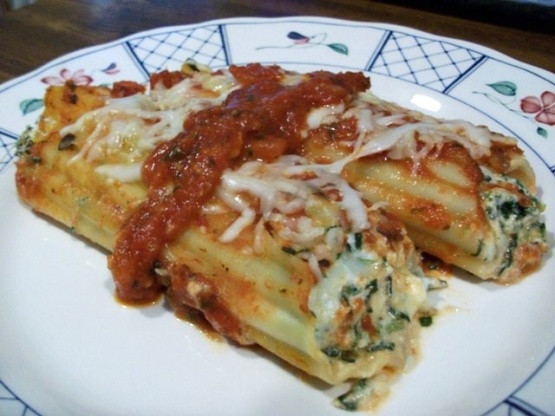 This is a nice twist on an old favorite by adding spinach and fresh mushrooms.

Wonderful recipe with excellent flavor. Here are my slight changes: The recipe did not say to precook the manicotti, but after looking at the box and seeing that they did that for their recipe, I boiled the noodles until just barely cooked - about 6 minutes. I also used a 20 oz. jar of spaghetti sauce and added a thin layer below the manicotti and then put the remainder on top of the pasta as directed in the recipe. When I prepared the filling as directed I had enough leftover to fill an additional four manicotti. Finally, I cooked the dish covered tightly with foil to keep the moisture in and enable the manicotti to be fully cooked. Very Delish!!
Preheat oven to 350°F Spray a 9x13 pan with nonstick cooking spray (or using additional sauce, lightly spread some sauce on the bottom of the pan). Set aside.
Spray large nonstick skillet with cooking spray. Add mushrooms and garlic; cook 5 minutes on medium heat, stirring frequently. Remove from heat.
In a large bowl, mix thoroughly the mushroom mixture, spinach, ricotta cheese, provolone, cream cheese, half of Parmesan cheese, and the eggs.
Spoon (or use a pastry bag with a large tip) about 2 tbsp of filling mixture into the manicotti shells and then place them into the 9x13 pan.
Drizzle remaining sauce over top. Top with remaining Parmesan cheese and bake 55 minutes or until heated through.