Cheesy Spaghetti With Bacon and Peas
Obag6142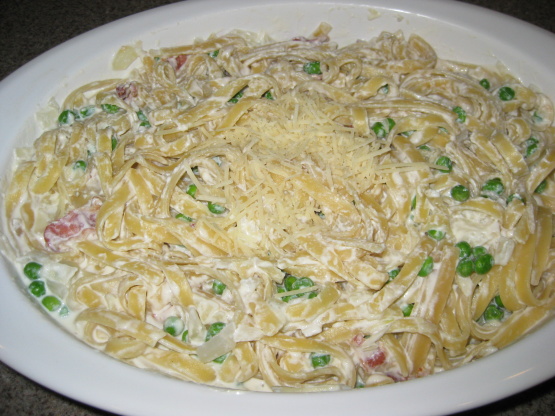 Based on a recipe in Delicious magazine.

This is an easy, no bake casserole dish that is very tasty. I substituted fettuccine for the spaghetti (it's what I had in the pantry); the fettuccine seemed to better hold the sauce. The recipe as posted made four very generous servings which actually could be stretched to eight servings. Also, since the recipe is so rich, I used less parmesian cheese (3 oz) and ricotta cheese (6 oz). Like mac & cheese, this dish makes the grade as wonderful "comfort food".
Cook the spaghetti in a large pot of boiling salted water as to packet instructions.
Add peas to pasta for the last 2 minutes of cooking time, drain and return to the pot.
Meanwhile heat the oil in a skillet over medium heat. Add onion and cook until soft then add the bacon and cook stirring until starting to crisp.
Add the garlic and cook, stirring for 30 seconds. Drain off some of the fat.
Add ricotta and cream to the mixture and stir over low heat until mixed together and warmed through.
Remove from heat and add to the pasta with the grated parmesan and parsley. Toss to combine and season to taste.
Serve with extra shaved parmesan and freshly ground black pepper.