Cheesy Scalloped Potatoes and Ham
Lainey39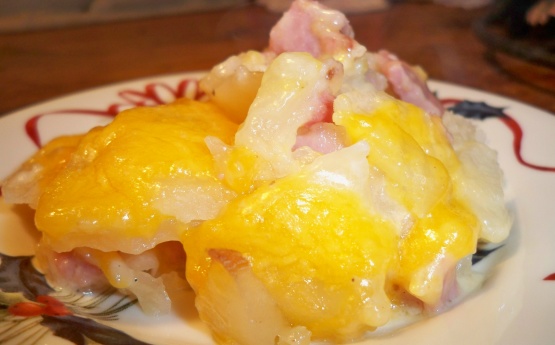 Another recipe I found in my Land O Lakes cookbook. I adapted it suit our taste.

Wow! This is a keeper! I have made scalloped potatoes and ham before but this is much more delicious! It will be my go-to recipe!

I made a few changes because of ingredients on hand or taste - since I was boiling the ham meat off the bone, I used the stock instead of chicken broth. I added about 1t of garlic powder, and 1/2t each of oregano and rosemary; I used dry minced onion (1T) instead of fresh and I added to the stock before mixing with the cream. The cream was no problem and neither was the cook time. Thank you for sharing!
Heat oven to 375 degrees. Combine whipping cream, chicken broth, onion, flour, salt and pepper in 2 quart saucepan. Cook over medium heat, stirring constantly, until bubbles appear around edges and mixture is thickened (4 to 5 minutes).
Layer half of potatoes in greased 12X9-inch baking dish or 3-quart casserole. Sprinkle with ham, 1/2 cup Monterey Jack cheese and 1/2 cup Cheddar cheese. Cover with remaining potatoes.
Pour hot cream mixture over potatoes; cover. Bake for one hour and 15 minutes, or until potatoes are almost tender when pierced with a fork. Uncover; top with remaining cheeses. Continue baking for 15 minutes or until potatoes are tender and cheese is melted.