Cheesy Scalloped Potatoes
Nif_H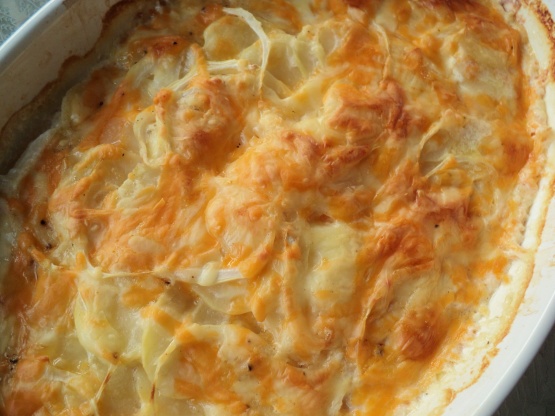 A delicious recipe from Southern to the Core cookbook received from BusyMomof3 in the 2011 Cookbook Swap, must admit to cooking this but I add ham and spring onion (scallion in place of onion) to the mix so consider this the base mix and delicious. On preparation time it can vary hugely dependig on if you use a mondolin or food processor or by hand and then depending on your knife skills, so I have tried to take a middle line here on the timing.

Top Review by Nif_H
Even though I forgot to put the cheese in the middle of the 2 potato layers, this was great! I used 6 medium potatoes, and a mixture of cheddar and mozzarella for the cheese. Slicing with a mandolin, this was really quick to put together. I had to cook it for almost twice as long because the potatoes were still not cooked through. We enjoyed this with meatloaf. Thanks Pat! :)
Preheat oven to 350°F.
Grease 9 x 13 inch baking dish and spread half of your potatoes on the bottom of the dish, overlapping as necessary and then layer half of your onions.
In a small separate bowl, mix your flour, butter, salt and pepper then sprinkle half of this mixture to make the next layer and then on top of this layer half of your cheese and the repeat to create your second layer and now add milk and cook for 45 minutes or until the potatoes are good and tender (Just to warn you this is supposed to look pretty soupy. To be safe, you might want to put a piece of aluminum foil underneath your pan in case of run over,).