Cheesy Scalloped Potatoes
Cook4_6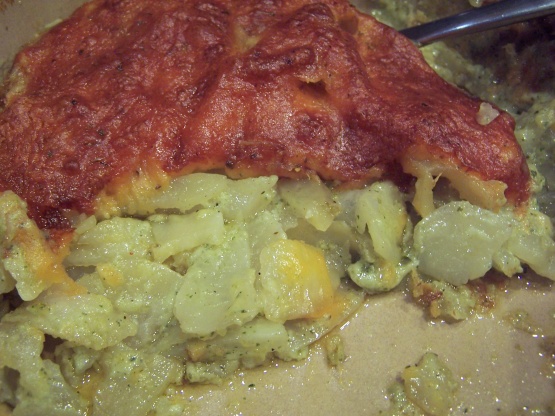 This is a recipe that my mother would always make for us when I was a child. Blending the onions and celery was her crafty way to get us to eat this dish by disguising the veggies. Let me tell you, it worked great ;)

This was a really nice variation on scalloped potatoes and a great way to get some veges into the kids! I was excited because my no-potato girl took 2 helpings! I only had skim milk, so I used heavy cream and it blended too thickly in the blender, so I thinned it out with about 1/2 cup of skim. Excellent! The only change I would make next time is to reduce the salt. Made for Spring 2009 PAC.
Blend onion, celery leaves, parsley, flour, butter, salt, pepper and milk in a blender, mixing thouroughly.
Arrange potato slices in a buttered, 2 quart baking dish.
Pour blended mixture over potatoes.
Cover loosely with tinfoil and bake at 350 degrees for 25 minutes.
Remove tinfoil half way through. Sprinkle with grated cheese, paprika and cayenne and bake for an additional 25 minutes.
Broil until chesse is bubbly and golden.