Cheesy Scalloped Potatoes
gailanng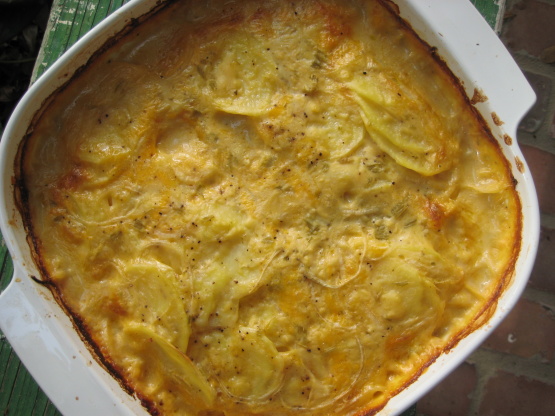 Delicious Comfort Food! Very easy to make, and can be made uncooked the night before and then cooked for an easy side on a busy evening. Hope you enjoy!

I saw this recipe this morning while at work, stopped at the store on the way home to get the soup and cheese. I used a Mexican blend of cheeses, and added a little bit of Feta cheese that I already had, and a black and red pepper blend. (we like spicy food). I also chose to use cream of mushroom soup and milk. For a "one dish meal" I seasoned and browned some pork chops then put them on top of the casserole and baked covered for 45 min's, then cooked uncovered for 30 minutes. This was a hit in my house! :oP I also doubled the recipe since tomorrow is club volleyball practice at 7 pm. Thanks for sharing the recipe!
Pre-heat oven to 350 degrees.
Grease a 9x9 baking dish.
Layer potatoes, onion, cheese and salt and pepper, being sure to make the top layer cheese.
Mix the soup and the water or milk and pour over casserole.
Bake at 350 for approx 2 hours or until potatoes are soft.