CrystalA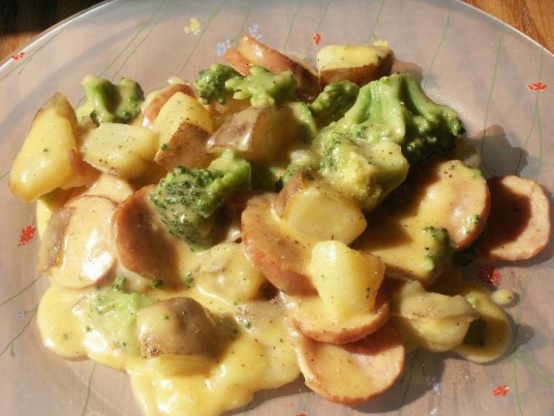 This is a really cheesy meal. Hope you enjoy it!

Personally, I would give this five stars based on ease of preparation and surprisingly good taste- but my children's apathy for it means I won't make it again. I put in twice as many potatoes and there was still plenty of sauce. My husband liked it as well.Thanks.
Place potatoes and sausage in skillet.
Cover with water.
Cook for about 10 minutes (potatoes may not be done).
Drain off water and add a bit of olive oil to pan with garlic, salt and pepper.
Also add back potatoes and sausage.
Now add cheese soup and milk.
Stir until mixed well.
Add paprika, cumin, chili powder, and garlic powder.
Add broccoli.
Cook for about 10 minutes, or until both potatoes and broccoli are done.
Sprinkle with cheese at the end before serving.