gailanng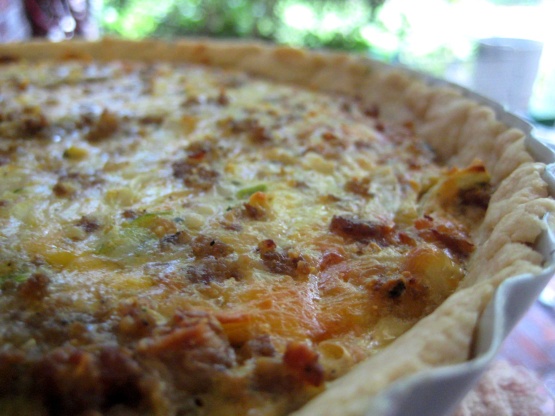 This is a savory,hearty quiche that even men who "don't eat quiche" will love. This recipe is from a childhood friend of my husband.

We have an abundance of sausage on hand, so I was looking for a recipe to use some up. I like that it is not real eggy, just enough to hold it all together. I baked the quiche without a pie crust. I just sprayed the pie pan. I used a 10" pie pan, but will use a 9" next time. We try to watch our sodium intake, but didn't find this recipe too salty. My whole family liked it. I will be baking this quiche again and trying different cheeses. Thank you for posting the recipe.
Brown sausage and drain then rinse with hot water to remove excess fat.
Place sliced onion in drippings from sausage and cook until onions are translucent.
Remove and blot in paper towel to remove excess fat.
Mix sausage and cheese with green pepper (optional) and add flour and mix until coated with flour.
Place in unbaked pie shell.
Place onions ontop of quiche.
Mix spices with beaten egg and add evaporated milk, and stir.
Pour milk mixture evenly over the quiche.
Bake at 350 degrees for 35-40 minutes or until quiche is set.
Let set for 10 minutes before serving.