Lalaloula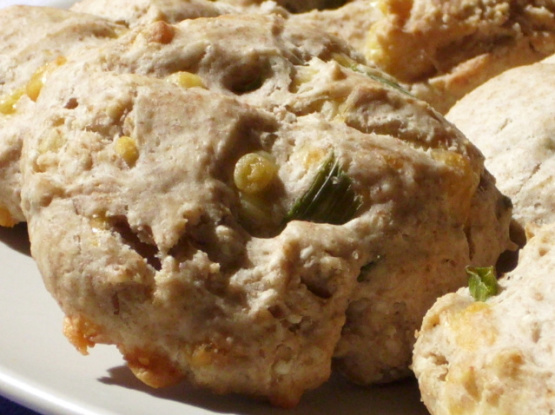 From Australian Super Food Ideas May 2007. A kid friendly recipe for the children to make (under supervision). A cross between a damper or a scone, Americans may refer to them as a biscuit and serve with a soup or stew. Due to recent finger problems I was not able to do step 3 so used a food processor, have posted to step 3.

Will make again! I omitted ham as I didn't have any and doubled the cheese as recommended in previous comments. I used Colby instead of cheddar. Served with Recipe#35411
Preheat oven to 200 degree celsius.
Lightly grease a large baking tray.
Sift 2 cups of flour and the salt together, add butter and using your fingertips, rub butter into flour until mixture resembles breadcrumbs OR put sifted flours in food processor, add cubed butter and process till it resembles breadcrumbs.
Add cheese, ham and parsley, stir with a wooden spoon until combined.
Make a well in the centre of the dry ingredients and pour milk into well, using a flat blade knife stir until mixture starts to come together (don't overmix, or rolls will turn out tough).
Sprinkle a little of the 1/4 cup of flour over the workbench, turn dough out onto bench and knead gently until dough comes together.
Shape dough into a 20 cm disc. Divide dough into 6 pieces and pull apart. Roll each piece into a ball.
Place on prepared tray, allowing room for spreading.
Sprinkle lightly with remaining flour and using knife score a 1 cm deep cross on each roll top.
Bake for 15 to 20 minutes or until golden (rolls should sound hollow when tapped on base.
Serve warm with extra butter.