Cheesy Red Bliss Garlic Potatoes
WiGal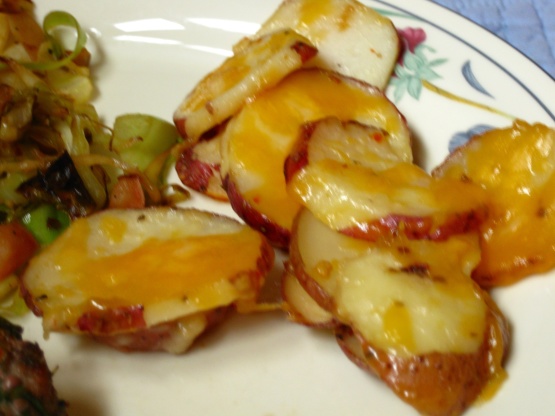 So Simple. So delicious. So Inexpensive. You can tweak this recipe in so many ways. I've added red pepper and onions. Left the cheese off for those crazy people that don't like cheese. Switched up spices. It's endless.

Top Review by WiGal
Nice tasting. Pretty much made as posted using 350 degrees, red potatoes sliced thin as in my pic. I increased the baking time after looking at reviews of similar roasted potatoes- covered for 45 minutes, and uncovered for 30 minutes --unfortunately potatoes were still undercooked. Did put in fridge ahead and that was super convenient. I would also add the Parmesan later in cooking as it ended up sticking to foil instead of potatoes. Thank you for sharing.
Slice Potatoes 1/4" thick and place in large plastic bag.
Add seasoning packet, red pepper and parmesan cheese.
Use enough olive oil to just coat potatoes and toss.
Refrigerate an hour if possible.
Place in casserole and bake 350 for 45 minutes.
Add shredded cheddar or any good meltable cheese and place back in oven for 5-10 minutes. (if you like golden & harder cook a bit longer before adding cheese).