Cheesy Potatoes (Easy Au Gratin Potatoes)
livie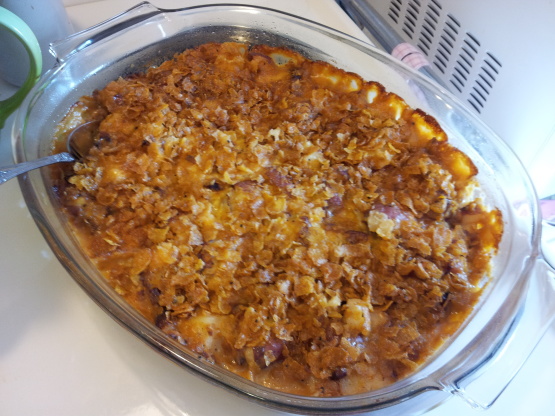 This side dish appears every Easter and Christmas Eve to go along with the holiday ham. We never have any leftovers.

Perfect! Loved it! I used cheddar cheese and cream of chicken soups. The addition of the onion and garlic really brings this up a notch from the other cheesy potatoes with corn flakes on top recipes I've tried. This is how I'm going to make it from now on, minus a little salt.
Place thawed hash browns in very large bowl. Add creamed soups and sour cream; stir to combine and set aside. In saute pan melt 1/4 cup of butter and saute onion and garlic till tender. Add to potato mixture along with seasonings and cheese. Stir together till nicely combined. Spread evenly into a 9 by 13 inch greased glass baking dish. In a small bowl combine Corn Flakes with the melted butter. Evenly place topping over potatoes then sprinkle over topping with dried parsley. Cover with foil and bake in a 350 degree oven for 1 hour and 15 minutes, then remove foil and bake 30 more minutes, or till golden and bubbly. Let stand 15 minutes before serving.