Cheesy Potatoes Au Gratin
vadapao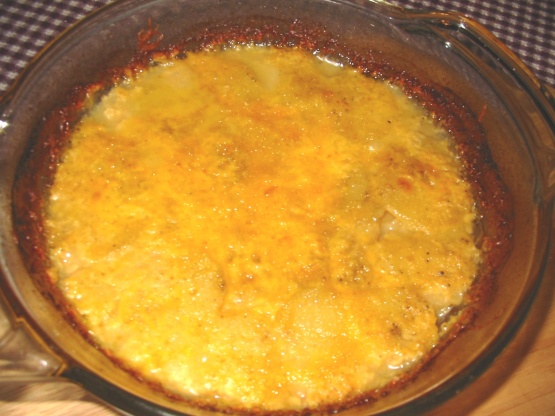 Recipe from New Orleans Cooking by Emeril Lagasse. Simple and tasty side dish. Did add a couple of extra spices as the recipe seemed to be bland with just salt & pepper. The additions of garlic & onion powder seemed to make a difference in the layers.

Made this for Christmas Day along with some ribeyes. Loved it. Used a round glass casserole dish with no issues. Cooked it with the lid on. The top browned nicely without having to remove it. This is an easy recipe to make, and doesn't take long to assemble.
Preheat oven to 400 degrees.
Lightly grease a medium gratin dish with butter.
Cover the bottom of the pan with an overlapping layer of potatoes.
Lightly season with salt, pepper, garlic powder, and onion powder and top with a sprinkling of cheese (about 2 tablespoons).
Continue layering potatoes, seasoning, and cheese, ending with the remaining cheese on top.
Pour the cream over the potatoes, pressing lightly with your hands to cover the potatoes with cream.
Cover with aluminum foil and bake until the cheese is absorbed into the potatoes and the potatoes are tender when pierced with a knife, about 50 minutes.
Remove the foil and bake until the mixture is bubbly and the top is golden brown, about 10 minutes.
Remove from the oven and let rest 10 minutes before cutting into portions.