Cheesy Potatoes and Onions for the Grill
awalde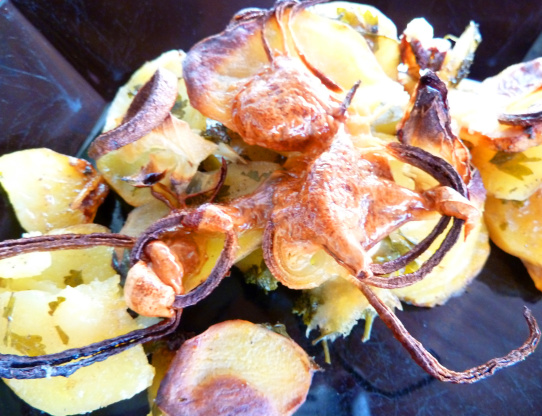 You can make these in a large heavy disposable foil pan or wrapped in heavy-duty foil and can also be cooked in the oven, you may adjust the amount of cheeses to taste

Top Review by awalde
I was in a hurry, I did not wrap the recipe, but I mixed everything together except of onion and mozzarella that I used for the topping.
I programmed the oven to be ready and the right time and....WOW was really delicious! Thanks!
Prepare a 20 x 20-inch piece of heavy-duty foil or a 13 x 9-inch disposable foil pan (I prefer to make these in a pan).
Generously spray the inside of the foil or pan with cooking spray.
Toss the potatoes with sliced onions and Parmesan cheese (if using) then place on top and in the middle part of the foil, or place into the foil pan.
Sprinkle the butter cubes over the potatoes.
In a bowl combine cheddar and mozzarella cheeses, parsley, Worcestershire sauce, seasoned salt, black pepper and garlic powder; sprinkle over the potatoes and onions.
Slightly wrap up the ends of the foil then drizzle the broth over the top of the mixture.
Seal up the foil completely.
Make one or two very small pin-holes in the top of the foil to allow heat to escape (or cover the foil pan tightly with a sheet of foil, then make a small hole/s in the top of the foil).
Place the foil packet or foil pan on the grill, cover with the grilling lid and cook for about 40 minutes or until the potatoes are tender.