Marlitt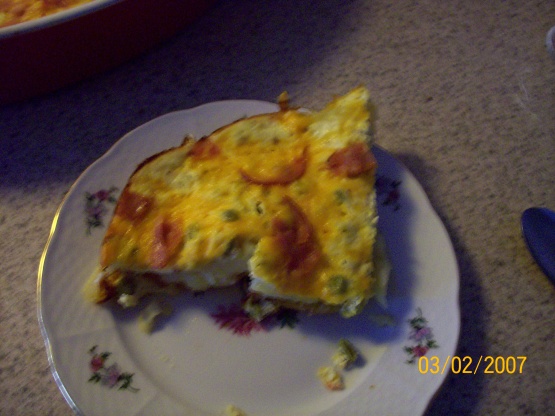 This is a simple no fuss basic recipe. Very versatile. I sometimes add a layer of sauted mushroom and onion. This can be a side or main dish vegetarian or not. You can add your own spices to your own taste.

I scaled this down quite a bit to serve two people and it was more than enough for me and my mom a few days ago. This is an extremly yummy and filling dish! I skipped the egg yolk and just used egg whites for the whole thing, used skim milk, low fat and less of both cottage and cheddar cheese, also used left over chicken. This is a very versatile dish as you said, I bet it would taste great with any mixture of left over cooked meats and veggies.
Preheat oven to 375 degrees.
Grease or spray a casserole dish.
Slice potato and layer in the greased dish, sprinkle with italian seasoning and salt and pepper.
Spread the peas evenly over the potato.
If you want meat layer the ham or chick over the peas ( salmon, tuna, or crab meat can also be used).
In a medium bowl add one egg and one yolk (RESERVING EGG WHITE in a separt bowl)the cottage cheese, 1/2 cup shredded cheese, milk, salt, pepper, garlic powder and pepper flakes and mix well.
Whip the reserved egg white into stiff peaks and fold into cheese mixture.
Pour and evenly spread the cheese mixture. over the ham layer.
Sprinkle the top with the remaining 1/2 cup of shredded cheese.
Bake in over for 40-45 minutes.