Pellerin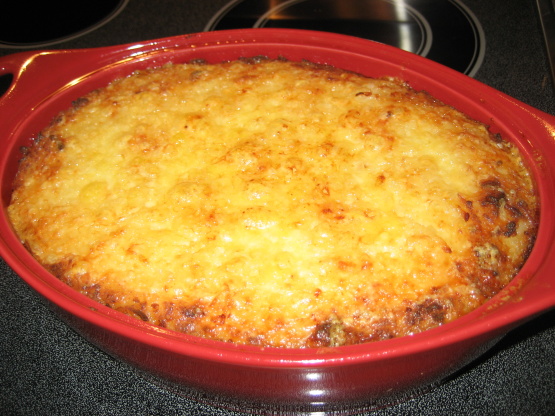 My friend, Paula brought this wonderfully textured and flavorful potato dish to a recent potluck, I knew I'd finally found a recipe to replace my mother's scalloped potatoes! By letting the potatoes dry two days after boiling, then grating, it creates a fluffy, almost rice-like texture that soaks up the cheese flavor, leaving no greasy mess - just smiling faces.
2 DAYS (48 hours) before serving, boil potatoes, in their skins, until just fork-tender (about 40 minutes). Drain well, cool, and refrigerate, covered, for 2 days to dry.
Pre-heat oven to 350°. In a saucepan, warm the half-and-half, butter, salt, and pepper, just until butter is melted.
Peel potatoes and coarsely grate (I use food processor). Grate the cheddar cheese, and add ALL BUT ABOUT A CUP OR TWO of cheese), plus all of the parmesan to the potatoes, in a large mixing bowl. Add the milk/butter mixture and toss to combine.
Spray a casserole dish or 9 x 13 baking dish with Pam, and pour in potatoes. Bake for 1 hour, uncovered. Top with the remaining cup of cheese and bake another 15 minutes, until golden brown and deeeeelicious.