Cheesy Potato Bacon Packets for the Grill
diner524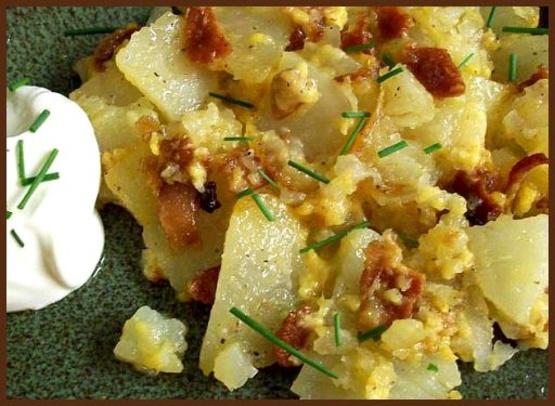 I have been making these for years, it's a family favorite! all ingredients are wrapped in a foil pouch then grilled for about 30-40 minutes, add in some cooked cubed ham for a complete meal, you could even make the packets well in advance then refrigerate until ready to grill :) Make certain to use only large heavy-duty foil for this and spray the inside of the foil generously!

Great recipe. Didn't change a thing in the ingredients and it came out awesome. Instead of foil wrapping, I use 2 foil containers clipped together (top & bottom, with office foldback clips). I find them handier to flip during cooking and easier to check when packets are fully cooked.
Divide the sliced potatoes and onions equally between two pieces (about 18-inches each) heavy-duty foil, that has been sprayed liberally with cooking spray.
Sprinkle with seasoning salt, pepper and garlic powder; tossing lightly with hands to coat with seasonings.
In a bowl combine grated cheddar mozzarella and Parmesan cheese; divide and sprinkle over the potatoes and onions.
Divide/top with bacon and butter cubes.
Bring opposite ends of the foil together over filling and fold down several times.
Fold unsealed ends toward filling and crimp tightly (making a sealed packet, you may poke a small hole on top of the packet to let steam escape).
At this point to you may refrigerate for a few hours until ready to grill.
Place on grill over medium heat for about 35-40 minutes or until potatoes are fork-tender.
Remove from grill, carefully open the packets (be careful these packets have lots of steam inside, so open with care!) and sprinkle with more grated cheese.
Delicious!