-Sylvie-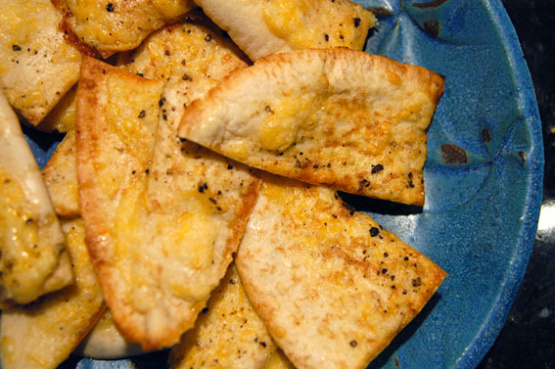 From Light and Tasty Jan 2003. Quick and easy appy with tons of flavr. Posted for World Tour 2005.

Awesome! These took abit to put together but it is so worth the effort. To make things go alittle quicker I spread whole pita rounds with the butter/cheese & then cut into triangles for the baking sheet. This also made it easy to spread the butter evenly. I used butter (vs margarine) & found 12 mins plenty of time to cook. Great recipe, thanks for sharing.
Seperate each pita into 2 rounds, making 4 rounds of bread.
Cut each round into 4 triangles - you will have 16 triangles total.
Place each triangle inside up on a lightly greased or sprayed baking sheet.
Combine remaining ingredients except for mozzarella and spread over triangles.
Sprinkle with mozzarella.
Bake at 400 degrees for 12 - 15 minutes or until golden brown.
Watch carefully so they do not burn.