AZPARZYCH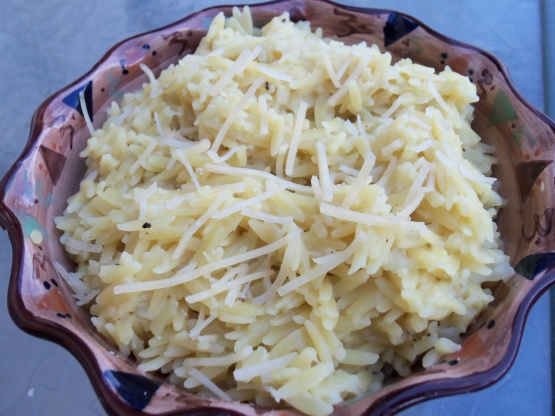 This is Rachael Ray's recipe for a great sidedish to use when you're tired of plain old rice (or if you just love orzo, like I do).

We liked this a lot. I halved the recipe but used the whole amount of cheese, added about a tablespoon of light cream cheese and a splash of fresh lemon juice. I used vegetable broth, making it a vegetarian dish (for a guest.) The cream cheese made it creamy, the lemon juice made it bright! I had the leftover for lunch today with a little butter. YUM! ZWT 7 - Shady Ladies
Preheat an 8-inch pot with a tight fitting cover over moderate heat.
Add oil, onion and garlic and saute for 2 or 3 minutes.
Add broth to the pan and bring to a boil.
Stir in orzo and return to boiling.
Cover pot and reduce heat to simmer.
Cook 15 minutes, stirring occasionally, or until liquid is absorbed and orzo is tender.
Remove lid and stir in cheese.
Add salt and pepper to taste.