KellyMae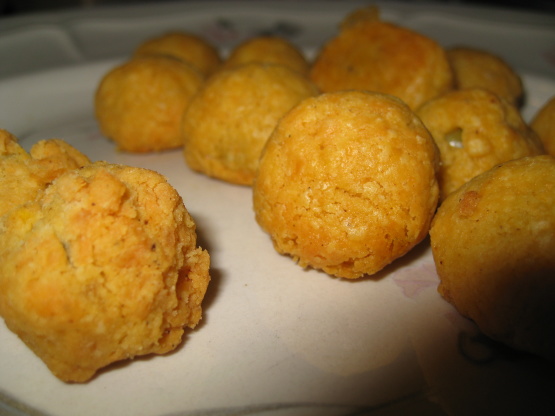 These became popular in the '60's and are still good today. Bet you can't eat just one! Prep time includes 20 minutes of flash freezing.

The only problem I had with this recipe was my fault. I tried to used margerine instead of butter. Bad idea. This is not the one to cut the fat on. They melted into puddles. Tasted okay but looked kind of funny. I will make again the right way.
Mix together all the ingredients except the olives.
It will be a thick mixture.
Drain at least 48 stuffed green olives.
Wrap approximately 1 teaspoon of the cheese mixture around each olive, to completely cover it.
Flash freeze covered olives at least 20 minutes.
Store in a freezer bag until ready to serve.
Bake on an ungreased cookie sheet at 400F for about 15 minutes.