Cheesy Mushroom Baked Flounder
Parsley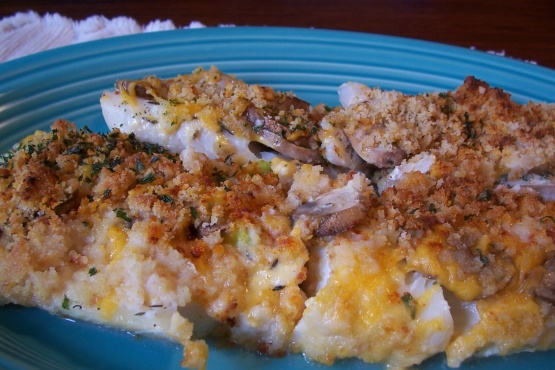 Delicious fish recipe. Works well with haddock, too.

I am always willing to try a new flounder recipe. This was good. I can see where some minor changes would have increased my enjoyment. I think sauteing the mushrooms first would have helped, reducing the cooking time by 10 minutes and adding a little salt and pepper.
Preheat oven to 350. Lightly spray or grease a 13" x 9" baking pan.
Place flounder filets in prepared pan.
Sprinkle filets with thyme and chopped green onion. Scatter sliced mushrooms over top.
Evenly sprinkle shredded cheese over top.
In a small bowl, mix together melted butter, breadcrumbs, parsley and paprika. Sprinkle over top of cheese layer.
Cover and bake for about 30 minutes.
Uncover and broil for about 2-3 minutes to lightly brown the top.