Ellee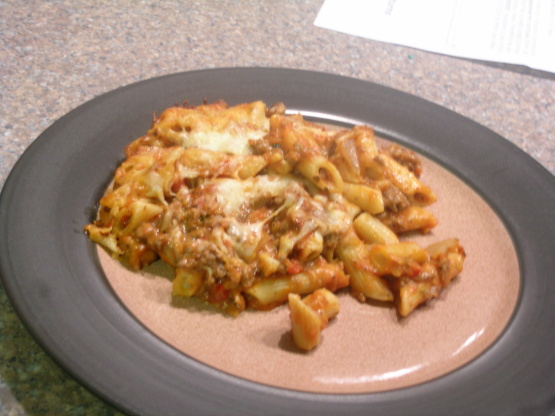 This recipe is from an old Pampered Chef cookbook. Simple and something my kids will eat. Freezes well. See note for OAMC instructions.

A great kid and adult friendly recipe. My 1 year old ate his little heart out. I did forget to put the cheese on top, but I honestly didn't miss it. Thank you for sharing this recipe.
Prepare the pasta according to the package directions; rinse and drain.
In a non-stick skillet, cook and stir the beef over medium-high heat until meat is browned; drain.
Add in spaghetti sauce, soup, pepper, and Italian seasoning; stir to combine.
In a large bowl, mix together the pasta, sauce, and 2 cups cheese.
Transfer mixture to a greased 4-quart baking dish.
Sprinkle remaining 1 cup cheese over the top.
Bake at 350° for 40 minutes or until heated through.
Note: OAMC instructions--To freeze: Complete recipe through step 6. Seal with foil or place in a zip top bag. Freeze.
To serve: Thaw in fridge overnight. Bake as directed.