Ashley Cuoco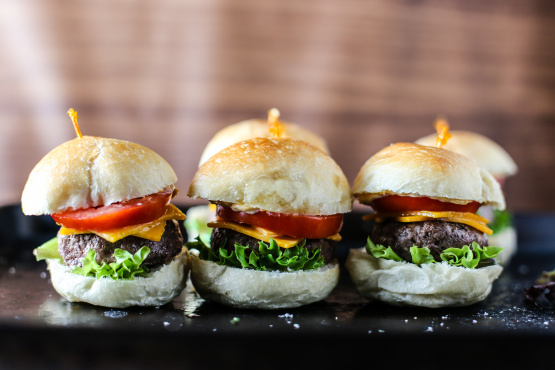 I love these cute little bite-sized burgers. They are excellent for parties, and football gatherings and always go down a storm with the men folk! Great for children's parties too! These can be prepared up to a day before hand, then assembled and grilled.

last night i had a "burger" night, made these and another burger (i wanted mini and a carnivore wanted a big double burger lmao)absolutely great. Served them on soft "brown and serve" buns..they stay wonderfully squishy when you don't brown them.
For the patties:.
Combine mince,onion,mustard and sauces in a bowl.
Take two teaspoonfuls and shape into a ball, and then flatten slightly to form a patty. Repeat with all of the mixture.
Cut 4 1/2 cm rounds from each slice of bread, 4 out of each slice. Brush with melted butter and bake in a moderate oven for approx 15 minutes, until lightly browned and crisp.
Spread each round with tomato paste.
Heat oil in a large fry pan. Cook patties until well browned; drain on kitchen towel.
Place patties on top of the bread rounds and top with cheese.
Grill until the cheese has melted.