Cheesy Mexican Turkey Burgers
Shuzbud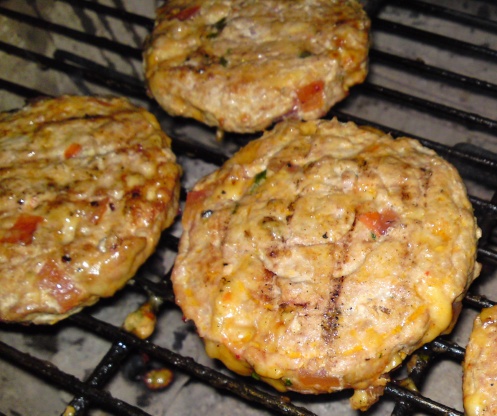 These are not spicy (feel free to add spice if you like yours that way!) but have a fresh, vibrant flavour that goes well with burger buns or with other sides such as Mexican rice.

Nice change to an regular burger. Always looking for different hamburger recipes. Made as written with no changes. Came up with 4 nice sized burgers that my kids even enjoyed. Had a nice kick to them. Made for PRMR tag.
Start the barbecue or preheat the grill.
Remove the core and seeds from the tomato and finely dice the flesh.
In a bowl, add to the tomato: the turkey, mexican cheese, paprika and fresh coriander. Mix well.
Divide the mixture into four and shape into burgers. If you have time, cover and chill in the fridge for 20 minutes to let the flavours blend.
Place a sheet of foil over the barbecue or grill, or use a baking sheet if preferred- because these burgers are made from a low fat meat, they can break up if not handled carefully, so the foil helps them to stay together. Handle and flip them with care.
Place the burgers on the barbecue or under a grill, on the foil or baking sheet.
Cook for 15 minutes, flipping regularly.
If using a barbecue, remove the foil at this point- after 15 minutes- so the burgers pick up the chargrilled flavour in the next 10 minutes.
Cook for a further 10 minutes (whether using a barbeque or a grill) or until completely cooked through.
Serve with salsa if desired, on burger buns, Mexican rice, or whatever takes your fancy!