Pam-I-Am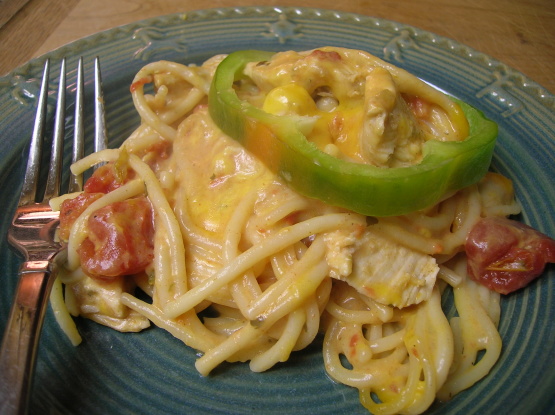 This recipe came from the cookbook "Take Five for Every Occasion". All of the recipes require only 5 ingredients and are easy to make. My oldest daughter, Amy, doesn't like chicken, but she will eat this. It has a punch to it from the Ro-tel tomatoes. I've never timed the recipe so 30 minutes is prep. time which is cooking the vermicelli and cooking and chopping the chicken after it cools. The process cheese can be cubed or shredded. I've always cubed mine, because Velveeta will stick to any tool used to shred it.

Made this last night for dinner and we loved it, it's different than my other chicken casserole recipes. I made it just like it was posted, only I boiled the chicken and then cooked the noodles in the leftover chicken stock, it gave them even more flavor. I usually have all these ingredients in the pantry, so I'm sure this will be on the table again very soon. Thanks for posting!!
Mix the tomatoes with green chiles with the undiluted soup.
Add the cheese and chicken.
Cook until the cheese melts, stirring constantly.
Place the vermicelli in a greased casserole.
Pour the cheese mixture over the vermicelli.
Bake at 350 degrees for 30 minutes or until the chicken is cooked through.