ImPat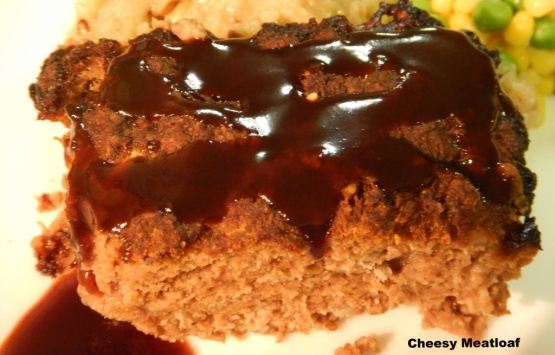 Easy, freezes well (raw), and can be tripled. If you sub in ground turkey, that is good too. While I was still working I would put meatloaf in oven (frozen) with baker potatoes (wrapped in foil) and baked carrots in the morning before I left the house, and set up my delay bake cycle on my oven and come home to a nice meal. If you do have leftovers, you can cube the leftovers up and add to spaghetti sauce or make yourself a sandwich.

I had found a recipe for meatloaf without Ketchup (or Catsup either) because I hate it, and I'm the cook. Found this one instead, and decided to try it. I cut the recipe in half because there is only the two of us, and it worked out perfectly. I left out the olives because I don't like them (Remember? I'm the cook!!!). I sliced 2 medium potatoes in half lengthwise, and then cut like french fries. These were on top of the foil in the small slow cooker and under the meat mixture. Some of the larger potato "fingers" were a little crunchy, but still ok. Next time I'll cut them a little smaller, and will also put more mozz in the middle. I never make meatloaf because of the ketchup thing, and Himself claims it's one of his favorite foods. We were both happy because he got to douse his whole plate, and I didn't have to taste it! I also put shredded parmesan on top--would have used more mozz, but used it all in the middle. Very happy with this recipe--the slow cooker and the potatoes made it great.
Mix first nine ingredients.
Put half of meat mixture into loaf pan.
Top with shredded mozzarella.
Then cover with rest of the meat mixture.
Bake at 350°F oven for 1 hour and 15 minutes.
If you freeze it (raw), double wrap in foil.
To make in crockpot (which I have not done yet)--put 3 heavy duty foil strips, each measuring 18 X 3 inches in a crisscross so they resemble spokes of a wheel in crock pot. Place meatloaf in the center of the strips. Pull the foil strips up and over the meatloaf. Cover. Use the foil as handles to lift out. Estimating time at 8 hours on LOW or 4 hours on HIGH. Also, read that you can cut up two potatoes, into finger size pieces and put that underneath the meatloaf in crock pot. Ummm.