Boomette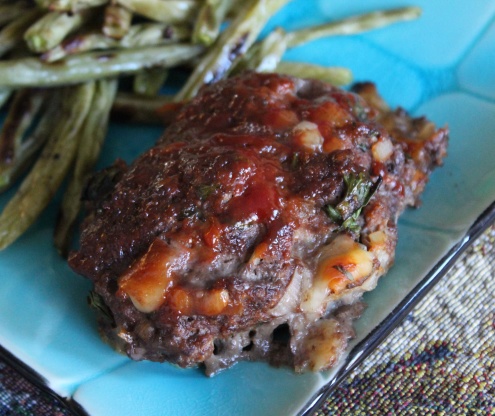 Little mini-meatloaves.....cooked on a broiler pan so the fat runs out. Stuffed with diced white cheddar cheese...Yum!
I didn't use fresh breadcrumbs. I used dry italian breadcrumbs (1/4 cup) and I omitted the step to roast in a pan. Usually I use less cumin in a recipe but for the glaze, I used the amount described. I like this way of doing meat loaf. It takes less time. It's cute :) My son ate this for his lunch and he liked that so much that he wanted to eat the same thing tonight. Thanks breezermom :) Made for Photo tag game
Preheat oven to 425 degrees.
Heat a skillet over medium high heat. Add fresh breadcrumbs, cook 3 minutes or until toasted, stirring frequently.
While the breadcrumbs cook, heat a large skillet over medium high heat. Coat the pan with cooking spray. Add the onion and garlic; saute 3 minutes.
Combine onion mixture, breadcrumbs, 1/4 cup ketchup, and remaining ingredients. Shape into 6 (4x2 inch) loaves; place on a broiler pan coated with cooking spray. Bake for 15 minutes at 425 degrees. After 15 minutes, spoon the glaze evenly over each meatloaf. Bake an additional 10 minutes until done.