Annacia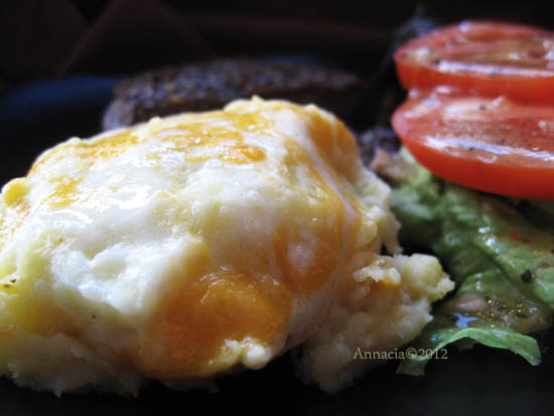 This is a quick and easy recipe, using Gournay cheese and Yukon Gold potatoes. The addition of half and half makes this a special "quick" recipe!

I'm ingredient acquisition challenged out here in the boonies and ended up using a mix of cream cheese and cheddar (my apologies breezer) and it was still delicious. That speaks well of the recipes ability to adapt to needs and tastes. I can't imaging anyone being unhappy with these taters and cheese. :D
Bring potato and water to cover to a boil in a large saucepan; reduce heat, and cook for 15 to 20 minutes or until tender. Drain and return to saucepan. Cook over medium heat for 30 seconds. Remove from heat.
Add cheese and remaining 4 ingredients; beat at medium speed with an electric mixer until smooth. Spoon into a 2 1/2 qt baking dish.
Bake at 350 for 15 minutes.