ImPat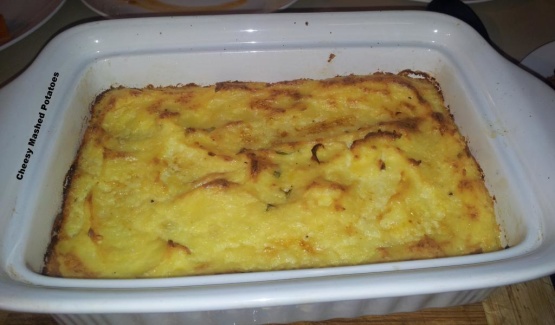 Yummy! These potatoes are wonderful for a holiday meal or anytime you *need* some sinful potatoes.

These were nice! Really creamy and full of flavour. I really enjoyed the addition of green onion and the paprika butter topping. Left out the butter in the mash itself and used reduced fat cream cheese as well as low fat yogurt in place of the sour cream. With these changes it was still a rich and yummy dish and I didnt have to feel guilty about indulging with it. :)
THANK YOU SO MUCH for sharing this recipe with us, Lvs2Cook!
Made and reviewed on recommendation of ImPat November 2011.
Cook potatoes in boiling water until tender; drain and mash.
Stir in cream cheese, sour cream, onions, melted butter, salt, garlic powder and pepper. Spoon into a 2 quart baking dish. Sprinkle with paprika and dot with butter.
Bake uncovered at 375º for 20 minutes.