Cheesy Loaded Hash Browns Casserole
Parsley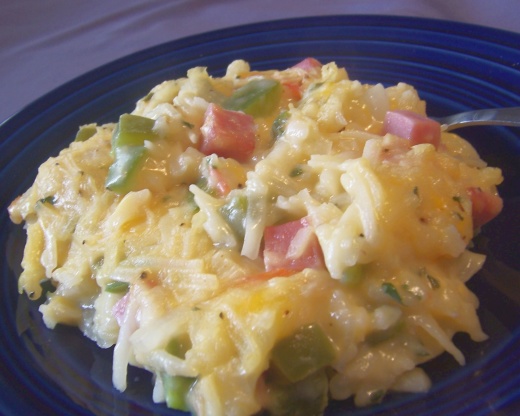 Great hashbrown casserole.

Very good; lots of flavor; only change was to add celery to the onion-green pepper mix. Going to try the leftovers mixed with eggs in the morning. Yummy recipe, Parsley.
Preheat oven to 350°. Lightly grease/spray a 13x9-inch baking pan.
In a large skillet over med-high heat, melt butter; add onion, green pepper, and tomato and sauté for 5-7 minutes.
Add flour to skillet and stir briskly until flour is absorbed.
Add broth, milk, hashbrowns, ham, pepper, salt, and parsley to skillet. Cook for about 5 minutes, stirring often.
Stir in the cheese; stir to combine well.
Pour into prepared baking dish.
Bake, uncovered for about 30 minutes or until sides bubbly and top is slightly browning.