Cheesy Leek and Potato Bake
Parsley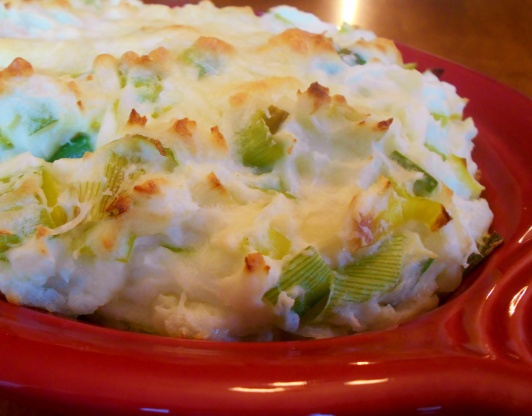 A well used recipe in my house-and so easy to make. It's great as a side dish to a main meal, or as a topping on Cottage Pies and suchlike, or quite simply a good comforting supper dish all on its own with some good thick gravy to pour on top. This is actually my husband's favourite way to eat potato. I hope you enjoy it.

What a yummy potato dish! In our house it easily serves 4 people. I cut back on the cheese, only used 1/2 to ligthen it up a bit. Next time I think I will mix all cheese in with the potatoes, I like it better in it than on top. Thank you for sharing this great dish!
Preheat oven to 220°C.
Boil potatoes. Cut leeks into 1 cm slices. Melt 1/2 of the butter in a pan and cook leeks for about 10 minutes.
Drain and mash potatoes with the other 1/2 of butter, the egg and 3/4 of the cheese.
Season to taste, stir in the leeks and turn into a large ovenproof dish.
Top with remaining cheese and bake for about 10 minutes, until golden. Will take longer if you have prepared the dish in advance.