Sara 76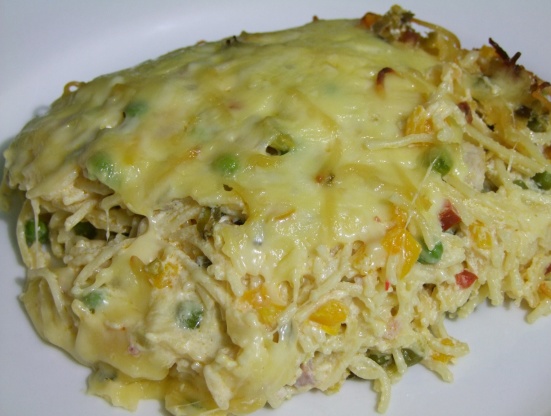 a different taste to spaghetti. A spaghetti dish with vegetables, chicken, and seasonings. You also could substitute ham for the chicken. This is an excellent dish. It would be easier if you broke up the spaghetti first. Spaghetti will never be the same. Worth trying.

What a fabulous recipe!!! <br/>This proved to be a real hit in our household....especially with the children, who don't really like creamy based sauces!!<br/>I used a mixture of chicken mince and chopped chicken, which worked really well...and only used red peppers, and skipped the celery.<br/>I recommend that the peas are totally defrosted, as mine weren't quite there, and therefore the end result was a little runny, but we didn't care, and it tasted absolutely wonderful.<br/>Served with salad and crisp garlic bread....totally delicious!!<br/>The children ( aged 6 and 8!!) even told me that I could definitely make it again...now that's an endorsement!!<br/>Made for PRMR.
In a large skillet, saute onions, celery, and bell pepper in the margarine.
In a large bowl, combine onion-pepper that was just cooked, and the seasonings,spaghetti, chicken, sour cream, and alfredo sauce and mix well.
Fold in peas and half of the mozzarella cheese.
Spoon into greased 10x14 inch deep casserole dish, and bake covered at 350 degrees for 45 minutes.
Remove from oven and sprinkle remaining cheese over the dish.
Return to oven for 5 additional minutes.