LAURIE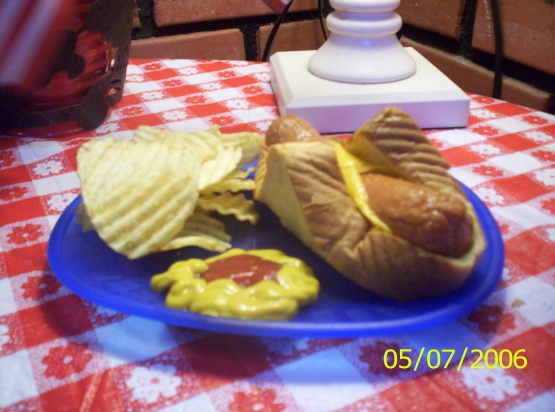 Boiled hot dogs are place on a buttered slice of bread with cheese, folded in half and baked until golden brown and the cheese is melted. Baking time will vary with your oven. These are easy to make and really good.

These are a fun way to make lunch for the little ones - and tasty, too (especially since I put some jalapeno on mine...mmmm!). The only thing I didn't care for was the bread on the underside stayed buttered and didn't get brown, so it was a bit slimy to eat. Aside from that, it was easy to make and a fun change for all.
Cook hot dogs in boiling water until done.
Preheat oven to 350°.
Spray a 9 x 13 baking pan with non stick spray.
Spread butter on both sides of each piece of bread.
Put a slice of cheese on one side of bread.
Place a hot dog in the middle.
Fold up the sides.
Pin with a toothpick.
Then lay hot dog sandwiches side by side in the baking pan.
Bake until bread is toasted brown and cheese is melted.
Watch carefully so they don't burn.