Cheesy Hockey Puck Potatoes With Dill
ImPat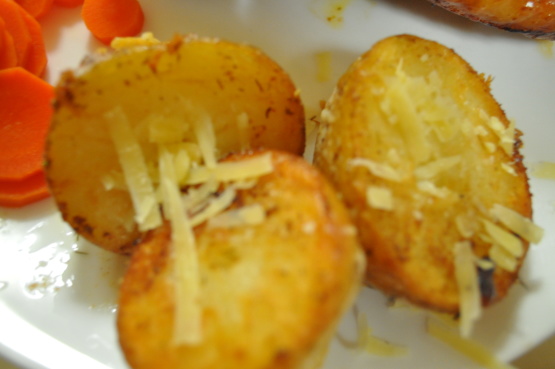 I love dill and this recipe is another way of seasoning my FIL's hockey puck potatoes.
Preheat oven to 350°F.
Wash potatoes and pat dry.
Use roasting pan and melt 1/4 cup of butter or margarine in oven.
When melted remove from oven.
Cut potatoes in half or thirds depending on size of potato.
Spread melted butter around on pan and sprinkle salt all over pan.
Place potatoes with the flat side down on to pan.
Melt remaining butter. (I use the microwave).
Drizzle remaining butter or margarine over potato halves.
Sprinkle dill over potatoes.
Place in oven for 45 minutes.
Sprinkle parmesan cheese over potatoes.
Bake for another 45 minutes or until potatoes are tender.
Use a metal spatula to remove the potatoes from the pan!
Enjoy.