rosie316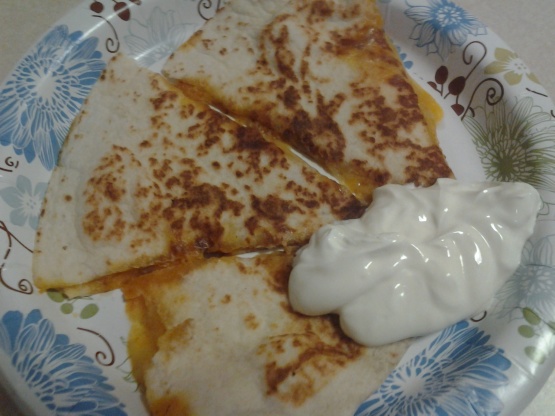 An easy snack or light lunch. For an added "kick" use pepper-jack cheese. Cheddar or Swiss cheese can also be used, or a combo.

Mikekey!! It doesn't get any easier than this. I make similar but have not done the mater or the onions before. Why I have no idea but let me say this is the bomb!! I made this for my lunch yesterday using a ham steak sliced thin ( no deli for me allowed) a mater from neighbors garden organic and green onions from mine. Wonderful. quick, nourishing, and flat out good. I then made one for my neighbor, her mater after all, and she thought this was great. She couldn't believe I drove over on my lawn mower, plate in hand with a lunch for her. It was pretty funny thinking about it but better than taking the car. I am actually making these tonight again and cutting into quarters for an appy as a couple of the neighbors are coming by for a stop in after dinner. A bit of vino, some veggies, and your Quesadillas will do the trick. Thanks Mike I just love this variation.
Sprinkle cheese onto one half of each tortilla. Top with ham, tomato and green onion tops. Fold each tortilla in half, pressing firmly together.
In a 10-inch skillet, cook quesadillas, two at a time, over medium heat for 4 minutes, or until lightly browned, turning once. Repeat with remaining quesadillas.
Cut each quesadilla into wedges and serve.