Cheesy Ham Hash Browns Casserole
Bayhill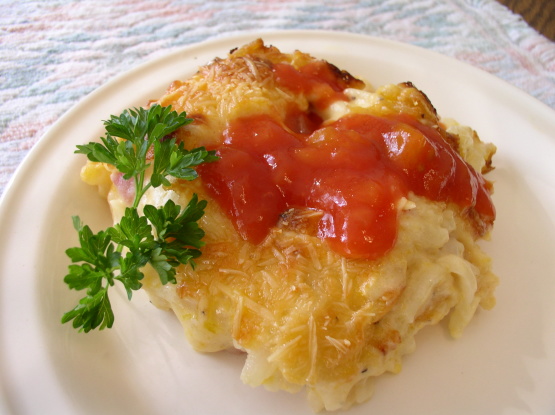 This recipe was so GOOD!!!! I made if for dinner tonight with a side of scrambled eggs and all 8 family members loved it!!! The only thing I did different was add a little more than a pound of ham. Since it was a dinner dish for tonight, I wanted it to be meaty. I usually like more cheese to those recipes that call for cheese, but since everyone loved it as it is, I will leave it alone. Thank you for posting this tasty recipe!! Now I'm off to add this recipe to my cookbook.
Preheat oven to 375 degrees F (190 degrees C).
Lightly grease a 9 x 13 inch baking pan.
In a large mixing bowl, combine potatoes, ham, potato soup, sour cream and cheddar cheese.
Sprinkle with Parmesan cheese.
Bake in preheated oven until sauce is browned and top is browned, about 60 minutes.
Serve immediately.