Cheesy Ham & Cauliflower Casserole
Parsley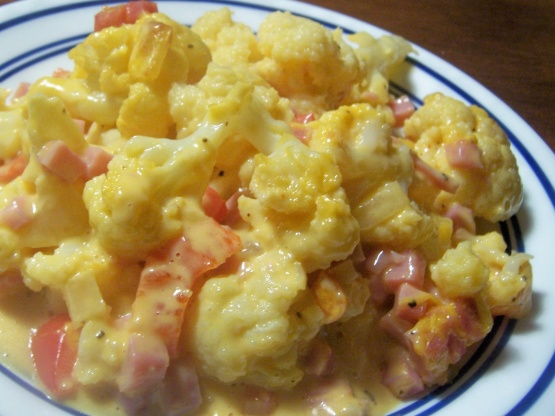 The fire-roasted peppers and chipotle give this dish a slightly smoky bite. If you don't like the smoky flavor you can substitute ground cayenne for the chipotle and chopped pimentos or red bell peppers for the fire-roasted peppers.

This is a meal in itself, so tasty and so easy to make. I used bacon instead of ham and since I cooked my bacon in the oven Recipe #208501 I zapped my onions in the microwave. I also used French Tart's cheese sauce from her Recipe #216237 instead of store bought but other than that I followed the recipe exactally. Fabulous recipe that I will make over and over again.
Cut cauliflower into 1/2-inch pieces; steam or microwave until just tender. Drain in a colander and set aside.
Saute onion and cubed ham in butter in a large saucepan over medium-high heat until onions are translucent.
Stir in cheese sauce, fire-roasted peppers, and chipotle pepper and reduce heat to medium-low.
Cook, stirring occasionally, until sauce is heated through.
Add about half of the shredded cheddar and stir until melted. Repeat with the remaining cheddar.
Add salt and freshly-ground black pepper to taste.
Add cooked cauliflower to sauce and stir gently to distribute sauce evenly.
Pour into a buttered casserole dish and bake at 350°F for about 20 minutes or until bubbly.