Cheesy Ham & Broccoli Casserole
Parsley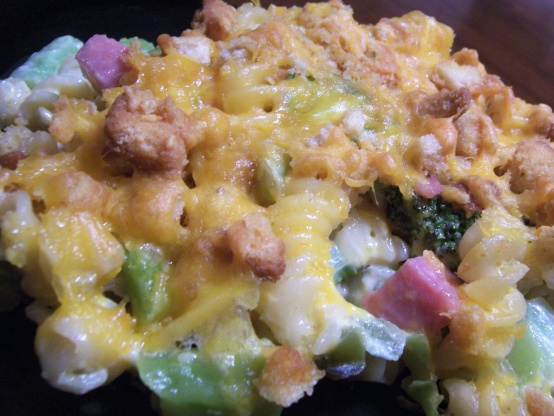 A dish often requested by my husband. The easy recipe came from a Miracle Whip advertisement.

My husband said that this meal was good enough to be ordered in a restaurant. He loved it. I used mayonaise instead of Mircle Whip and added 1.5 tsp curry powder. I also used red pepper as that was all I had. Definately a keeper that I would share with friends.
Toss pasta, ham, 1 cup cheese, broccoli, and green pepper together in a large mixing bowl; combine miracle whip and milk; stir into pasta mixture until everything is coated.
Pour pasta mixture into a lightly greased 9x13" baking pan; top with croutons and remaining cheese.
Bake at 350° for 30 minutes.
Note: Using 8 ounces rotini pasta (2 cups) made the casserole somewhat dry, so I decreased that amount to 6 ounces or 1 1/2 cups dry pasta.