Cheesy Ham Biscuit Pull Aparts
Prep 15 mins
Cook 25 mins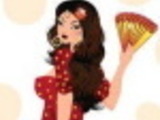 Adapted from Sky on Foodgasms. You can use a variety of mix-in's, from sausage, to different veggies, (onions, green peppers)
462.94 g Pillsbury Golden Layers refrigerated flaky original biscuits
1 egg
29.58 ml milk
177.44 ml diced ham
118.29 ml shredded cheddar cheese
118.29 ml monterey jack cheese
Directions
Heat oven to 350 degrees.
Spray a 11 x 7 or 12 x 8 glass baking dish with cooking spray.
In a large bowl, beat egg and milk with a wire whisk until smooth.
Separate dough into individual biscuits and cut each biscuit into quarters.
Gently stir biscuit pieces into egg mixture to coat evenly.
Fold in ham and cheese.
Spoon mixture into prepared dish, arrange biscuit pieces in a single layer.
Baked at 350 for 23 - 25 minutes or until golden brown.
You can either cut into squares or just pull apart and serve.
Reviews
Most Helpful
I liked it! With only one egg, I was nervous that it would be dry, but it was perfect. I doubled the amount of ham and added half a chopped red bell pepper. A nice, hot breakfast that came together in a snap on a snowy morning!