Cheesy Ham and Potato Soup
Annacia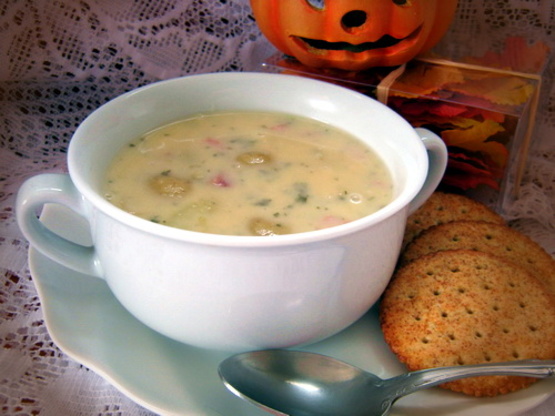 Comfort soup at its finest! I usually make this to use up leftover ham. This is easy to adapt with other ingredients. I don't put celery in mine. I have added garlic sometimes as well.

My kids aren't done eating this and I must rate it. I have the most picky 5 and 9 year old children in existence. My 5 year old had a second helping and my 9 year old is finishing his. They both like it. It was super easy. I made with homemade chicken stock as I had some I needed to use up. I also added some carrots as I had some already diced. It is very good. I think it will replace my usual potato soup.
Combine potatoes, celery, onion, ham, and water/broth in stockpot and bring to boil.
Then cook over medium heat until potatoes are tender.
Stir in the chicken bouillon, salt (if using), and pepper.
In separate saucepan, melt butter over medium-low heat. Whisk in flour and cook stirring constantly until thick.
Slowly stir in milk as not to allow lumps to form and all milk is added. Turn up to medium heat. Continue to stir until thick (4-5 minutes).
Add in cheese and stir until melted.
Stir the cheese mixture into the stockpot and cook until heated through. (I also will break up some of the potatoes for thickness. It gets thicker as it cools and next day).