Cheesy Goats: Pancetta Crisps With Goat Cheese & Pear
alligirl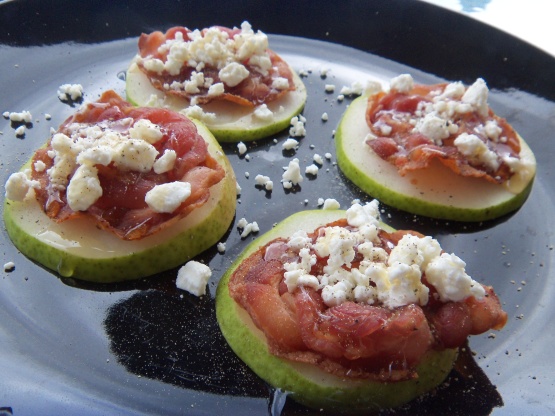 A funny name for a delicious treat. A fun and easy finger food.

OMG! Just loved it! I reduced it, to make a small amuse-bouche for DH and myself. Outstanding flavor and texture, and just WOW with the presentation! I know that I'm fixing these for my friends the next time we get together. So glad I found this - really enjoyed this rendition of fruit and cheese, two of my faves! Thanks for sharing, Adopted Parisian!
Preheat oven to 450°F.
Arrange pancetta slices on a foil-lined baking sheet. Bake 8 to 10 minutes or until golden. Transfer to a paper towel-lined wire rack to drain. Let stand 10 minutes or until crisp.
Core pear with an apple corer. Cut pear crosswise into 12 thin rings. Arrange on a serving platter. Top evenly with pancetta and goat cheese; sprinkle with pepper. Drizzle with honey just before serving.